Sale price
$45.00
Regular price
Unit price
per
17 drinks per bottle | US$2.65 per drink
Melati Fresh is a flavorful non-alcoholic spirit with bright acidity and a dry finish for white wine lovers. Green mango, guava, lime rind and fresh basil are balanced by bitter gentian and grounded in warm Asian spices.
Melati Fresh bottles the lush tropics of a Bali summer cooled by the salty sea breeze. Delightfully tasty for refreshing long lunches and uplifting conversations throughout the day.
** Buy 6 bottles and enjoy 10% off
View full details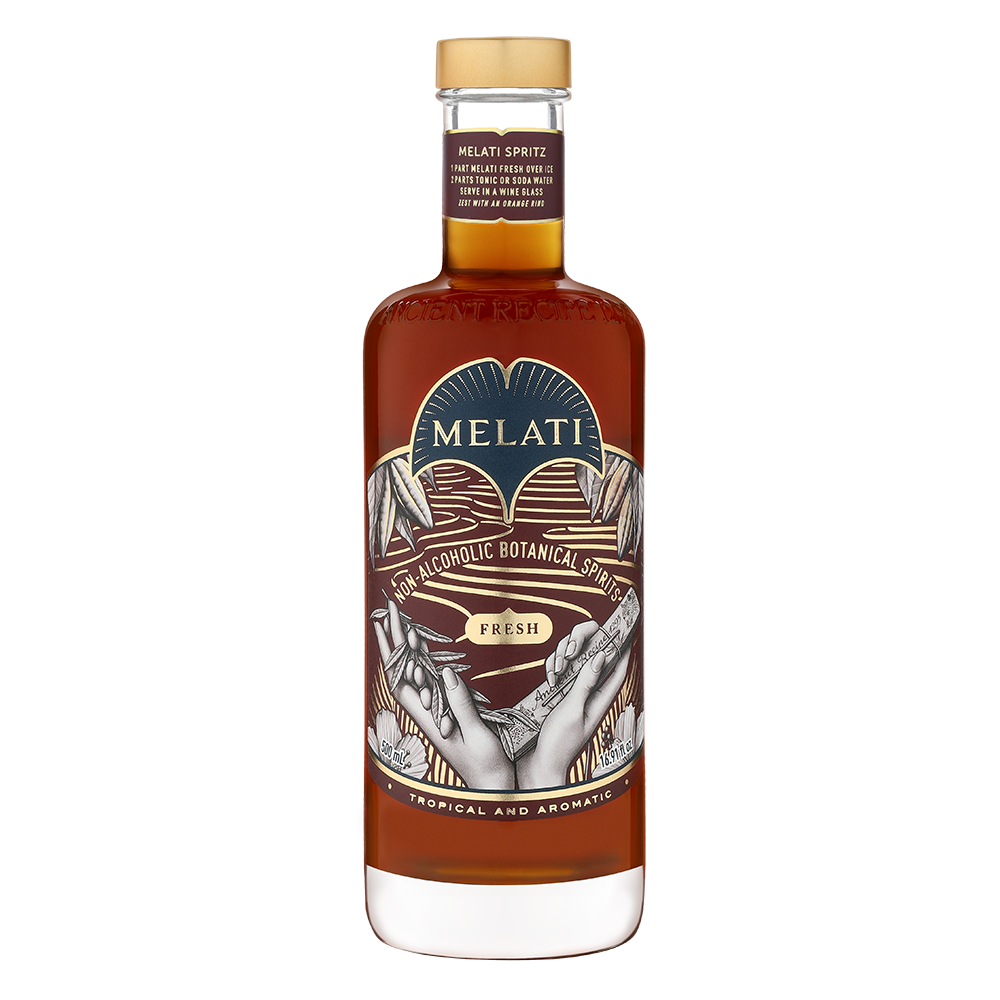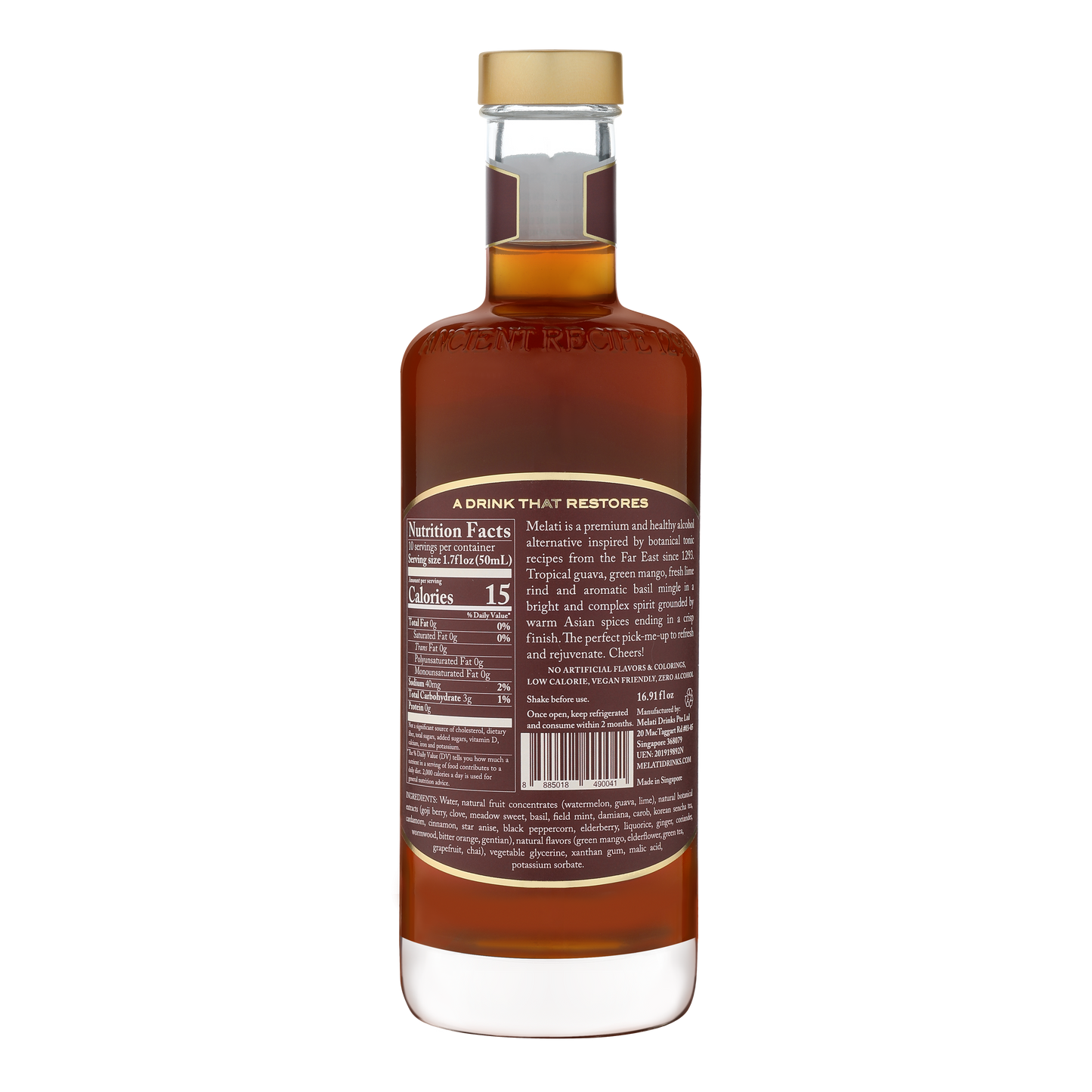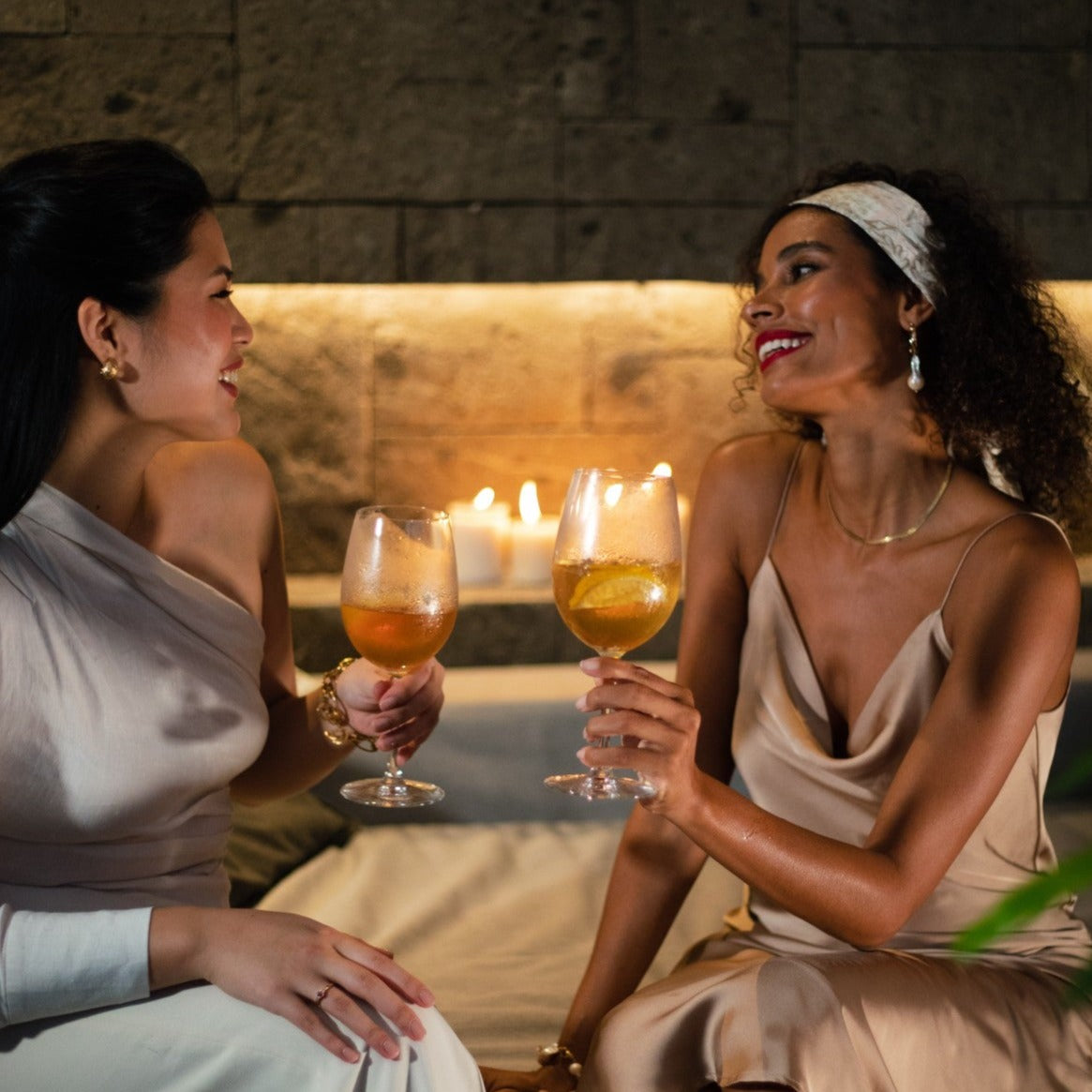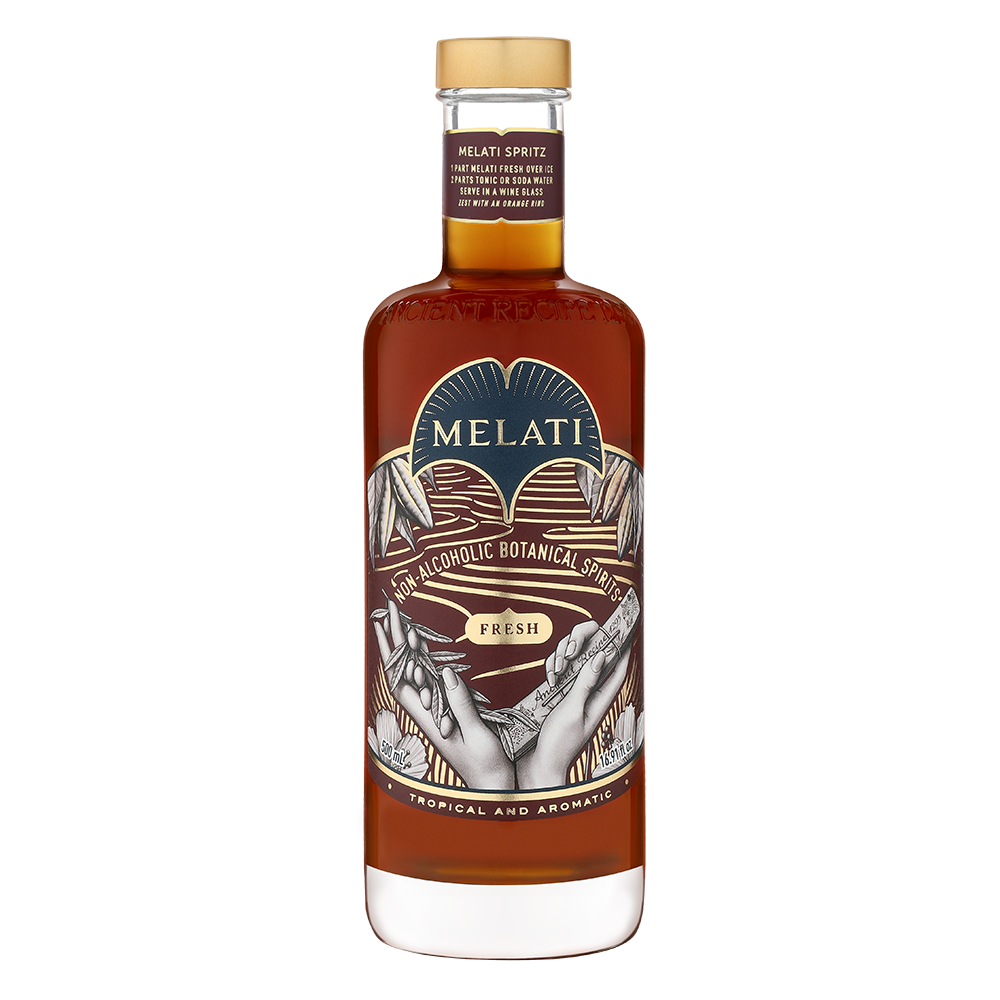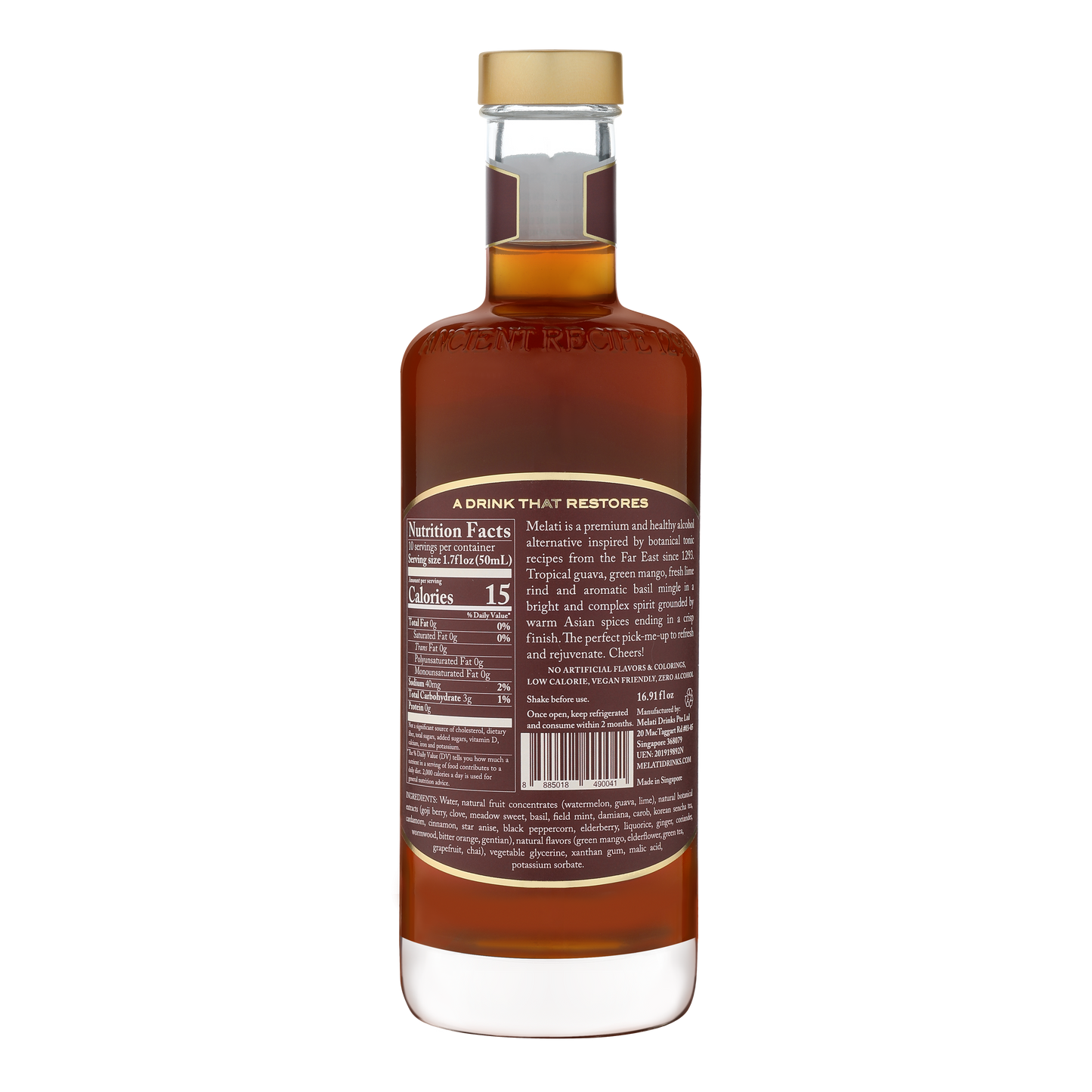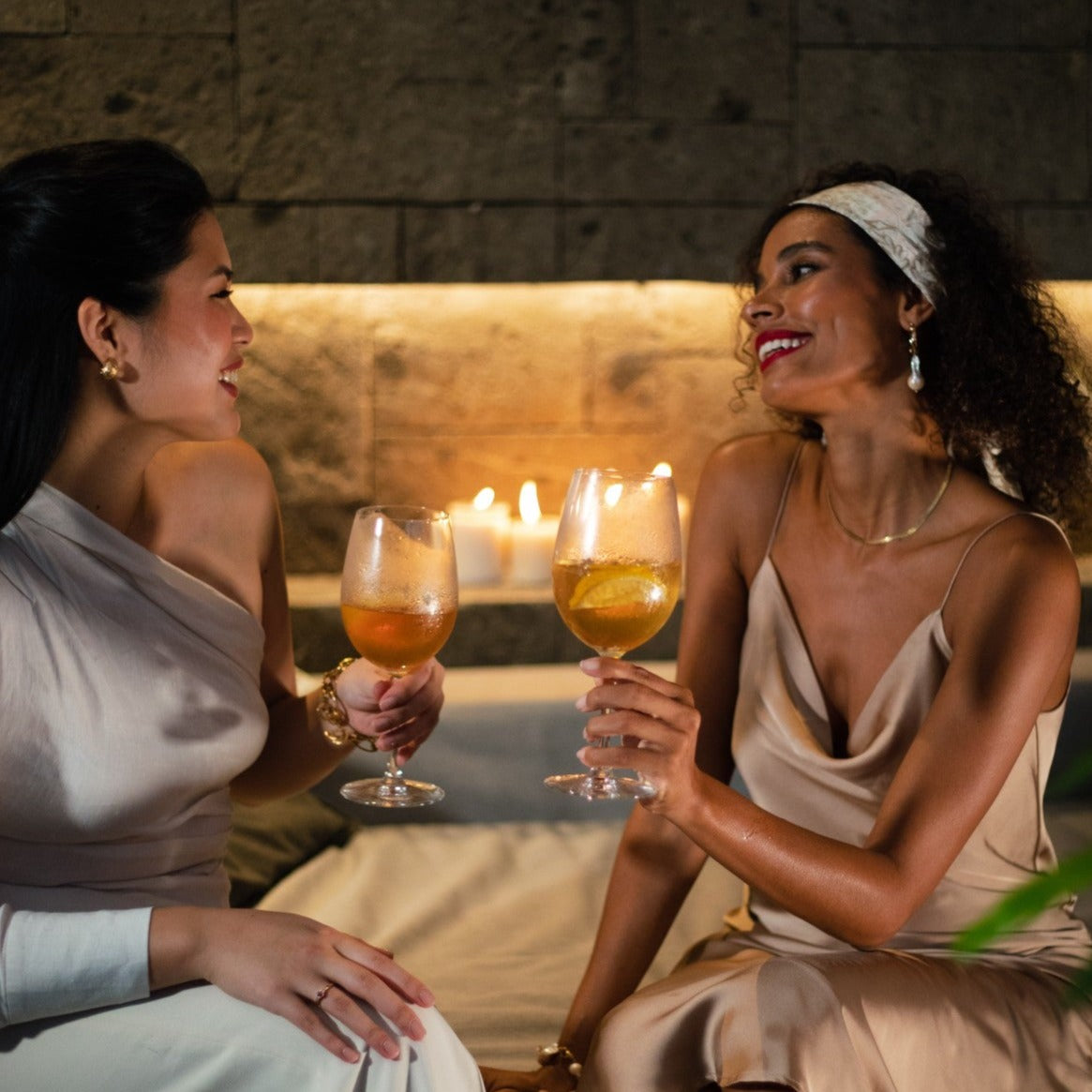 GUILT FREE INDULGENCE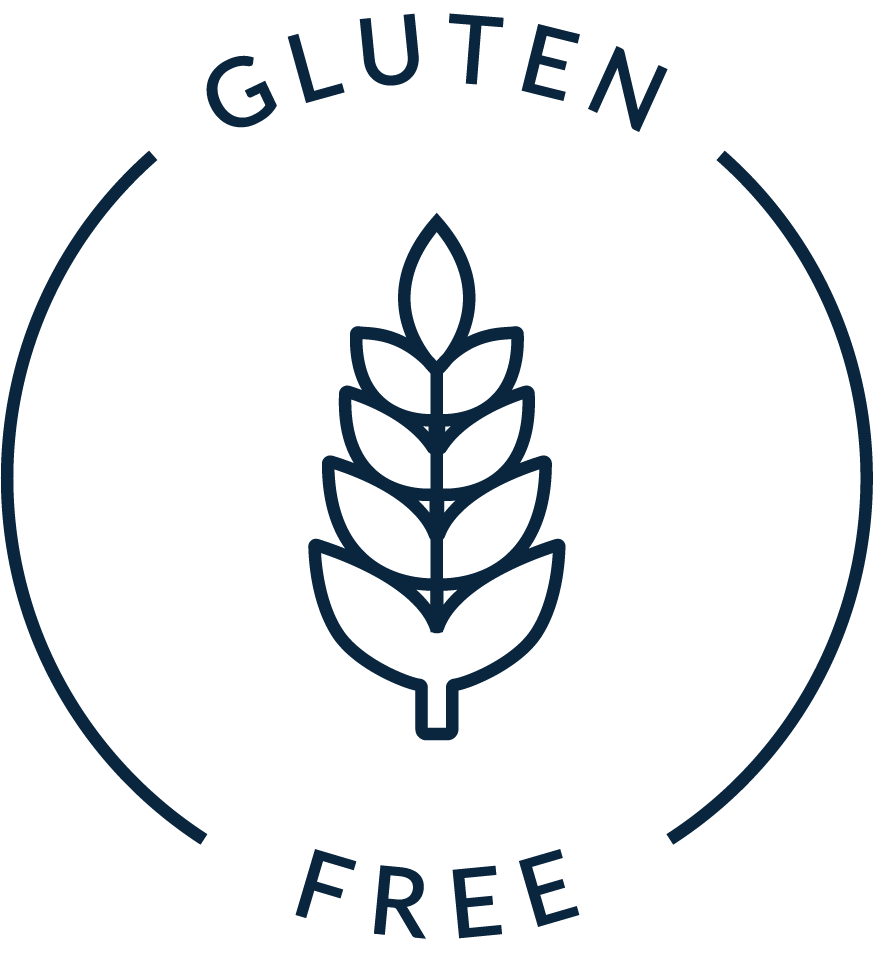 Self care starts in your glass
FOR EVERYBODY
Optimised for business meetings, baby showers and everything in between. Vegan, gluten free, no sugar added, zero caffeine, zero alcohol. You can have it all.
BETTER THAN ALCOHOL
Crafted as a flavorful alcohol alternative without the empty calories, negative impact on health or hangover. Made from 70% organic botanicals, we add health to your drinking rituals.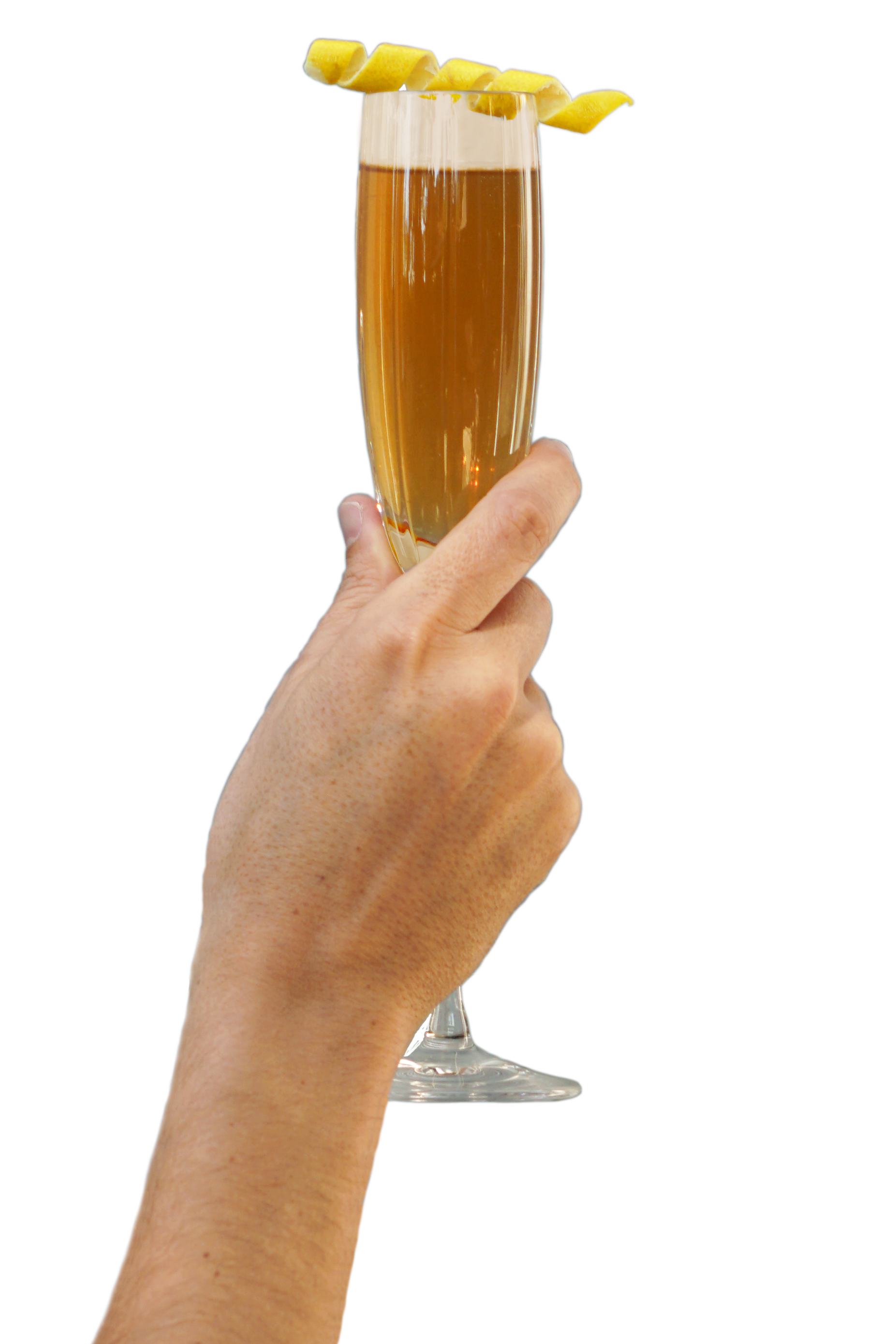 HAPPY HOUR, MADE EASY
All you have to do is top up a shot of Melati with tonic water or your favorite mixer. For clinking glasses without compromise.
PREMIUM QUALITY
The finest botanicals extract the finest flavor. Rooted in healthy Asian tonic drink recipes from 1293, our six week extraction process is a labor of love to produce a sophisticated adult drink that is good for you. Created by an Ayurvedic specialist and food scientist, we are used by Michelin-starred restaurants & award-winning mixologists.
How to enjoy
MIXED WITH YOUR FAVORITE DRINK
Taste the flavor other drinks talk about
Restorative botanicals were used in tonic drinks since 1293, today we source these same ingredients 70% organic. Sourcing the finest botanicals, we cold-extract them up to 6 weeks for maximum flavor and benefits.

Bottling the tradition of the Far East, we worked with an ayurvedic specialist and food scientist to craft our drinks. Pairing Asian botanicals wisdom with modern science, we make the perfect alcohol alternative with the same heritage, craftsmanship and premium ingredients of a fine spirit.


GREEN MANGO
A powerful liver supporter and blood flow regulator to ensure you feel balanced and detoxed.

GUAVA
Helps to regulate metabolism and boost immunity with more Vitamin C than oranges to keep you feeling strong.

GOJI BERRY
Highly prized in herbal medicine to delay the ageing process, and for kidney and liver support to reduce the stress on your body.

FRESH BASIL
Traditionally used to improve blood flow, its oils also help to regulate digestion to help you feel relaxed and detoxed.

LIME RIND
Their oils are filled with anti-inflammatory antioxidants and vitamins to keep your skin looking good.

CARDAMOM
A digestive aid, blood pressure regulator and natural body detoxifier to keep you feeling energised and grounded.
View more ingredients

FAQ
What is Melati Drinks?

Melati Drinks is Asia's first luxury zero-alcohol alternative. We crafted a sophisticated and delicious drinking experience from some of the finest ingredients in Asia. We don't taste like anything else because we're not made like anything else. A complex and flavorful mixture of flowers, fruits, herbs, roots and leaves from the Far East taste-tested by some of the world's best sommeliers, chefs and mixologists.
What does Melati Fresh taste like?

Melati Fresh has the brightness and minerality of a white wine and aromatic sophistication of an aperitif. If you like green tea, zesty & tropical flavors and drinks with acidity, you'll like Fresh.
When do I drink Melati?

We were crafted for premium wine and craft spirit drinkers as a luxury alcohol replacement for any situation you find yourself in. With no added sugar and full of healthy ingredients, drink us anytime you want a flavorful and complex drink.
Why drink Melati?

The finest heritage, craftsmanship and fine ingredients can't lie. Our 70% organically sourced superfoods and adaptogens, gently cold extracted for six weeks, reveal the best drinking experience. Sophisticated, satisfying and rooted in drink recipes since 1293, our drinks are good to the last sip.
Are there health benefits?

Melati was crafted as a flavorful and complex adult drink, not a health supplement. Our fine ingredients are packed with superfoods and adaptogens as traditionally used in tonic drink recipes dating back to 1293 in the Far East. Our cold-extraction process ensures maximum flavor and functionality from our ingredients so you can be assured you're drinking quality botanicals and their restorative compounds.
Are you Asia's First Non-Alcoholic Spirit?

Yes we are! Born and bottled in Singapore we're proud to bring Asian botanicals to the world in a luxury zero-alcohol botanical spirit.
Can I drink Melati while pregnant?

As we do not use alcohol in any of our processing, Melati is alcohol-free (0.00%) and safe to drink while pregnant. However, if you have any specific health and dietary concerns, please consult your GP for advice.
How many calories are in one serving of Melati?

There are 15 calories per 1.69 oz or 50mL serve.
Is Melati vegan and gluten free?
Is there sugar in Classic or fresh?

There is no added sugar or artificial sweeteners in our drinks. Our botanicals do have a tiny bit of residual sugar.
Can I drink Melati and drive?

With zero alcohol we are safe for all drivers.
How do I store Melati?

Our expiration dates are printed on each bottle. Once opened please store Melati inside the fridge and drink within 3 months of opening.
Will I feel drunk or high?

While we haven't added any mind altering substances into our drinks, the natural botanicals are full of healthy restorative properties to help relieve stress in your body and uplift your mood. We always feel happy and healthy after sipping on a Melati drinks.